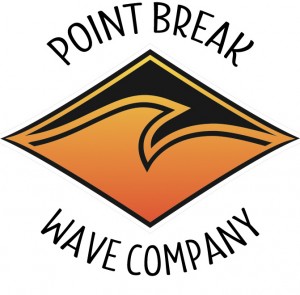 PRESS RELEASE
January 3, 2013
 The press release below was published and provided by the Point Break Wave Company
Point Break Surf Park, LLC and Point Break Wave Company announced today that they have licensed all worldwide patent rights, excluding New Zealand and South America, the Tide Water area of Virginia and some parts of Baker, Duval, Flagler, Baker, Nassau, Clay, St. Johns, Flagler, Columbia, Union, Bradford, Alachua, Escambia and Putnam Counties,) Florida, from Richard Carnahan, Inventor, Wave MFG, Inc. and Wave Yard Development Group, Inc.
The license agreement will give license rights to Point Break Wave Company, LLC. over two dozen patents and over 1000 patent claims and trade secrets. This will now put Point Break Wave Company at the forefront of the Surf Park industry. The patent license agreement included patents for Surf Pool Designs, Wave Generating Technology and Equipment, Current Dampening Technology, Sheet Flow Technology (Static wave simulator) and Surf Pool Reef Designs. Point Break Wave Company also has their own proprietary technologies that will be used along with the licensed patent technology. We feel this will make the perfect and affordable surf park experience for all to enjoy!
Point Break Surf Park, LLC has plans on breaking ground on their first surf park, located in Hanover, Virginia by spring or summer 2013 at the latest. The exact location of the surf park is being kept close to vest. The surf park will consist of a larger surf pool and a smaller training surf pool. The smaller surf pool will be enclosed in the winter months from November through March. The main surf pool will not be used in the winter months and will be covered. Future expansions of the park are planned in phases. There are plans to build a kayaking and white water rafting course, Wake boarding and water skiing pond, snowboarding mountain, Tony Hawk skate boarding park, BMX park, scuba diving park and an overhead aerial park.
David Evans, the US Project Manager and Director of Surf Park Franchising, says "These surf parks will be the new frontier of extreme sports." We hope to have one of our surf parks in every state in the USA some day and many places around the world.
Point Break Wave Company is now selling franchise and sub license rights and will build you a complete turnkey surf park. For a decent size surf pool, most current wave companies will charge you in the range of 6-8 million dollars just for the wave generation system and surf pool. Then the infrastructure build out for the restaurant, or beach grill, board rental building, the retail building, activities building, ticket building, etc. can run another 6-7 million on top of the pool build out. Some park concepts are running in the 20-75 million dollar ranges. We are seeing these concept parks start out with great intentions and die on the vine because the developers realize they can't get the financing with that size of a project.
Point Break Wave Company through research and development has invented ways to build the same size surf pool for around 1 million. We can build each of the Tiki style building infrastructures for around $100 a square foot. A franchise owner can decide which components and buildings they want added into the park. Point Break Wave Company can get a franchise owner up and running with a surf park turnkey project for about the 3 million dollar range. We can also build surfing pools as an addition to a current water park, amusement theme park, resort, hotel, municipality park, Parks and Recreations, ski resort, Sports Park, etc. This costs a fraction of what other wave companies are charging. Our goal is to have these surf parks about every 75-100 miles from each other around the United States.
Point Break Wave Company also bought patent rights to sheet flow technology. This will allow us to now build sheet flow static wave simulators. Our sheet flow technology is called Wave Box. We can install these on cruise ships, water parks, amusement parks, restaurant and bars, resorts, and sports parks. Our sheet flow technology also can barrel and double barrel. We can design your sheet flow set up any way you want it designed. Our sheet flow technology also costs a fraction of what other wave companies are currently charging customers.
We handle everything for you, from the market study, to the concept design, component matrix, renderings, surf pool design and layout, project build out time line, choosing location, submitting to the counties for approvals, and project build out. In the end we hand you the keys to your new surf park or surf pool.