Earlier this week we shared news of an exciting new surf park development, Wisemans Surf Lodge, which is set to become a first-of-its-kind surf retreat in New South Wales, Australia. Coming to an existing 45-acre property in Wisemans Ferry, to the backdrop of the Hawkesbury River and Dharug National Park, Wisemans Surf Lodge will feature a SurfLoch-powered wave pool that'll stretch the length of 4 NFL-sized football fields. It'll generate swells of up to 8 feet high every 17 seconds and rides of up to 12 seconds.
The New South Wales surf retreat development, coming from BALNCE, which is backed by world surfing pros like Stephanie Gilmore and Joel Parkinson, has started raising $120 million (AUS) by allowing everyday surfers to invest and co-own the underlying hotel property asset. Funds raised will be used to renovate the existing hotel, upgrade the golf course, add other resort amenities, and build the new SurfLoch pool. Once finished, Wisemans Surf Lodge will be home to a 54-room hotel, 9-hole golf course, restaurant, bar, event facilities, and more. This positions Wisemans Surf Lodge as a one-of-a-kind Australian surf lodge in the bush of New South Wales.
We recently caught up with both Wisemans Surf Lodge and SurfLoch to hear more about this unique Australia surf park development. Read on for our Q&A, and check out the full release here. To hear from SurfLoch's Tom Lochtefeld yourself, register for our upcoming Surf Park Summit, where he'll be one of the speakers.
Q&A with the team of Wisemans Surf Lodge
What makes Wisemans so unique, compared to other surf parks out there?
There are three key reasons: ownership structure, location, and amenity. Firstly, this is the only project in the world where the surfing community can actually own the underlying property asset, earn a rental return, and potentially benefit from capital growth like any other property investment, so the priority outcome is the longevity of quality experience and returns, not squeezing amenity for short-term returns. Inspired by traditional ski lodge ownership in the mountains, it's a similar premise where a community with a common passion co-own a property asset together to have a unique experience doing what they love, except without generating a return. Secondly, the location is unlike any other surf park project: on the edge of a spectacular river system, surrounded by Australian national park, within 60 minutes of a surfer-dense, global city on the site of an existing resort property with a golf course. Lastly, it's everything beyond the waves: Luxe suites, specialized food + beverage, member clubhouse, gym and wellness centre, swimming pool, playgrounds, pump track, golf course, river access.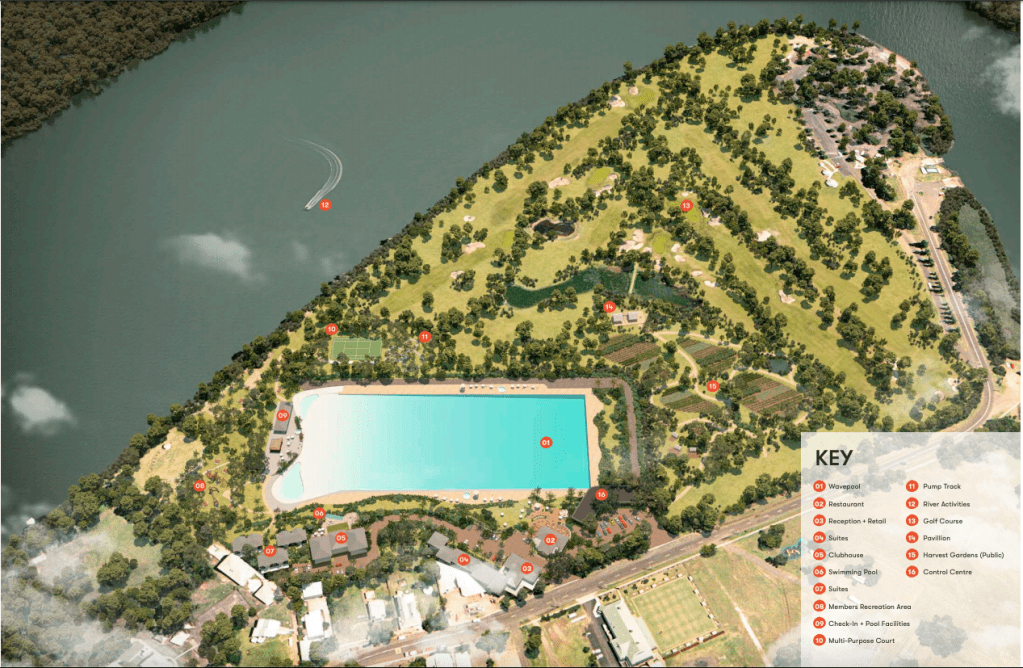 How have sustainability concerns been integrated into the project?
We've had a mission to minimize from the start, it's at the core of our business and played an important role starting with our site selection. Our project is an adaptive reuse of an existing hotel, rather than a ground-up development from scratch. Our site has two water licenses to enable us to sustainably draw from a brackish water source (before a top-notch treatment). The power sourced for our SurfLoch technology is from sustainable, renewable providers, albeit it's more expensive it's the right thing to do. The hotel itself is entirely run by solar with panels installed on the roofs. The landscape design is to retain and relocate flora as much as possible. It will continue through to our partners and providers we work with on-site, for example, our restaurant retains all its food waste for fertilizing our produce gardens.
What is the development timeline?
Construction will not commence until the fund is full. We want to see waves for Christmas next year.
How did you attract such a star-studded cast of partners?
The leadership team has great experience working with Steph, Alana, Jack, Joel, Josh and Bede in different capacities and on other ventures so when this concept emerged, the vision really resonated with them so it was an easy conversation. Plus, as global travelers for the past few decades, they bring a level of surf travel experience we can only dream of and shape the offer we're creating for our members. That's just the surfers. There's equally as much fire power in the board, executive team and our design partners who are contributing to make Wisemans a culturally leading venue in Australia.
Why a membership model? What benefits does this provide for early members?
Being a co-owner of the rare and unique property asset is the only way to access membership. An investor can decline the invitation or nominate someone else, but to have the offer is to be a unit holder in the property fund. Once the fund is full there are no more investor positions, therefore no more membership spots, so the benefit of being in early is simply being in. There's capital growth potential over the long-term as well. This structure was designed so that we can forecast 6.15% returns in year one for owners but deliver an on-site experience unseen in the market yet. With an owner/member model, it means we can preserve and protect both respectable property returns and premium experience for a returning customer base. Operationally, it made a lot of sense to develop a recurring revenue stream and use private and corporate events, food and beverage subleases and other ancillary services to drive that distribution.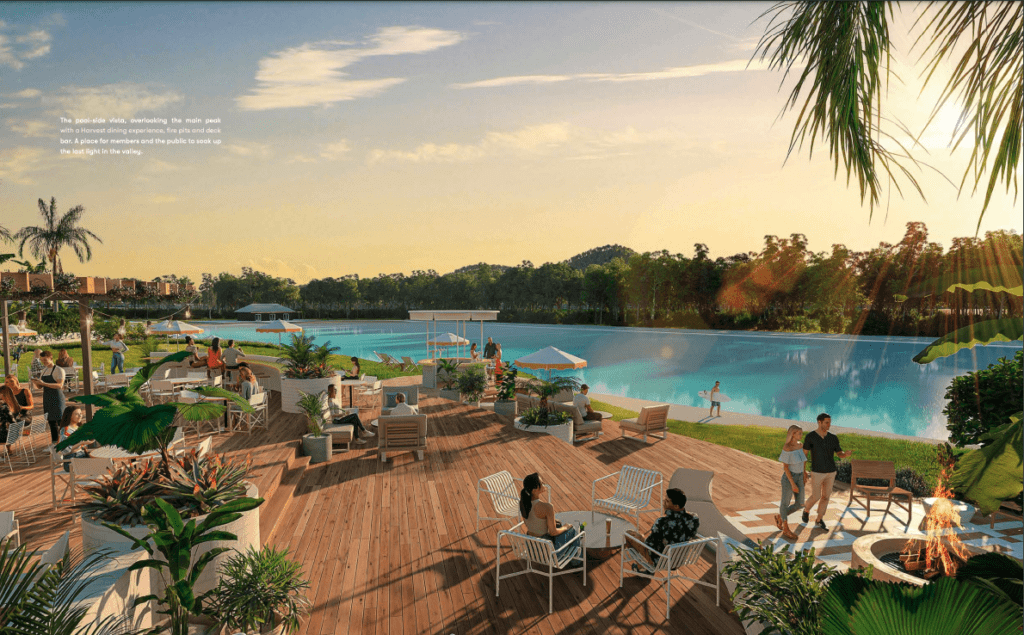 How can people get involved now?
Head over to wisemans.surf, enjoy the site tour, check out the Product Disclosure Statement and schedule a call with one of the team. For our friends in the US, if you're considering investing you'll need to do so via an Australian entity so get in touch with us at [email protected].
Q&A with SurfLoch
What makes the SurfLoch technology so unique?
Authenticity, flexibility, safety, and reliability.
How does the partnership with Siemens technology help SurfLoch to stand out?
It's paramount. Having a global brand like Siemens in our corner has definitely helped to legitimize SURFLOCH'S wave technology and solidify consumer confidence.
The first major project was Palm Springs Surf Club (PSSC) – what have been the lessons learned? What's coming next in other markets?
Wow, too many lessons to mention. From construction strategies to wave testing/validation, we have gained countless valuable insights and are always proactively seeking areas for improvement.
Are there other projects that the SurfLoch team can speak to?
Yes, but not going to speak to any projects that aren't already public. Stay tuned.
What is the brand ethos of SurfLoch?
Share the pure joy of riding waves with the world in a way that realizes a positive social, cultural, and economic impact.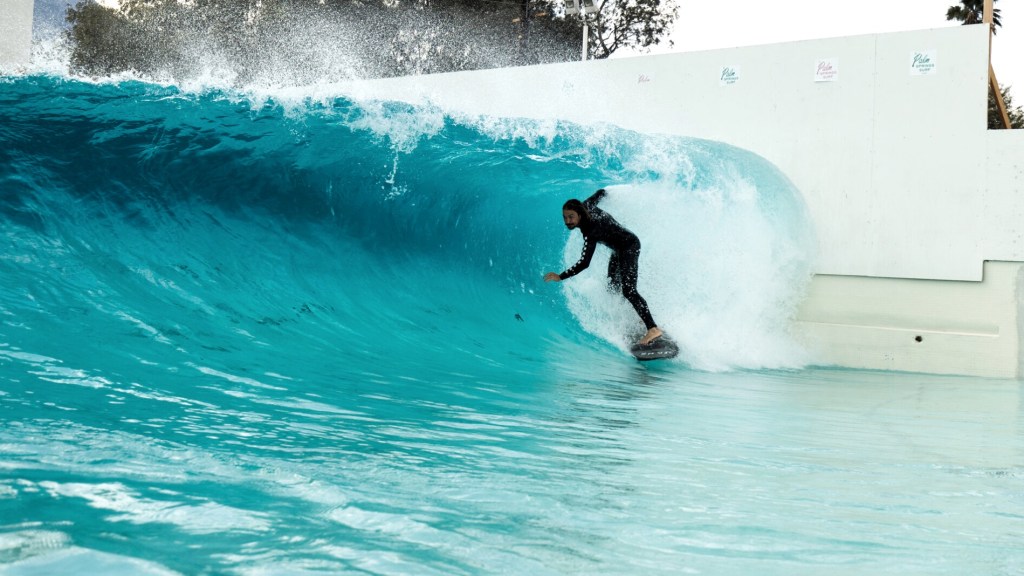 How can developer partners get in touch?
Contact us at: https://www.surfloch.com/contact.