Latest in Retailtainment at Oasis Surf: Catch a Wave at the Mall in Montreal
Published November 6, 2015 by Blooloop
When you visit your local shopping mall you might be hoping to catch a few bargains. But, how about a few waves, as well? That's exactly what's on offer in the ultra-chic lifestyle mall, Quartier DIX30, in Brossard, Montreal.
Oasis Surf, a 150-seat beach-themed restaurant and bar, surrounds a 350,000 litre surf pool that generates real-size waves – uniting an authentic surfing experience, restaurant, retail and entertainment under one roof, breaking new ground in retailtainment.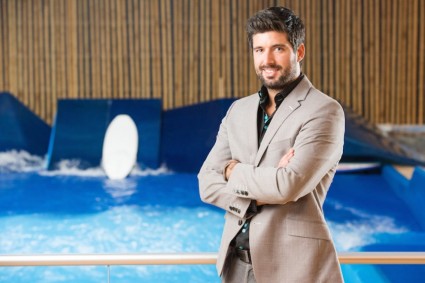 Its founder, Claude Coudry, spoke to Blooloop about its inception, and the secret of the atmosphere that keeps surfers and their friends pouring through the doors.
Coudry's initial intention was to open a restaurant with an entertainment element so visitors could "come at any time and know they would find something on."
For a long time, however, he had no idea what form that element would take.
He loved surfing, and as a surfer had seen the wave technology that had been around in the past, and been frankly unimpressed.
One day in 2009, when googling 'wave machines', he came across American Wave Machines (AWM) and their new surf machine technology that created a real wave. And, he realised he might have found the entertainment element for his proposed restaurant.
Surf's up whatever the weather
Surfing is a popular aspiration in Quebec, but the real thing is, for many, prohibitively expensive. River surfing, which takes place on the St. Lawrence demonstrates people's deepening interest in the sport. An affordable all-weather indoor surfing venue – complete with restaurant and retail offering – was clearly just what the market needed.
AWM only had two installations in the world at that point, so he contacted them.
"It was getting more and more possible, because I felt that we would have the authenticity of the surf."
He travelled a little, in order to look at venues with Flow-Rider machines installed, to see how they operated in the context of a restaurant. All were outdoors.
Coudry knew that for his plan to be successful, he needed his surf and restaurant to be indoors – climate and season-proof. Montreal has freezing winters and over seven feet of snowfall annually. Oasis Surf was to offer a taste of summer all year round.
"So I met the engineers to ascertain if it was possible, and, after a lot of headaches, we realised it was."
Making it happen
But there were still a number of issues: "Getting the money is the biggest challenge in opening something like this. Since the concept is not known, banks are not really keen, and it is a big investment.
The next challenge is to find a good location to run it. That's really a major challenge, too, because it involves a big construction, and if that is to be done in an existing building it is, in many ways, harder."
The construction (carried out by Vergo Construction) was a major undertaking involving a lot of precise engineering and the installation of an advanced electromechanical system in order to support AWM's SurfStream® technology – although, as Coudry says, the engineering isn't immediately evident to visitors:
"You don't really see it when you come in. A lot of things are hidden behind the walls and under the ground."
As far as running the attraction is concerned, the key is to hire good staff and ensure a flawless service.
"In Quebec it is always hard to get staff; we have around 60 employees here, and it is essential to have really good staff for a good service. The service must always be excellent so the customers are always happy.
"Otherwise, once everything is settled, it mostly runs by itself."
Oasis Surf is an innovative surf park, and the experience is about the atmosphere as well as the surfing – hanging out on the wooden deck among the palm trees watching surfers show off their moves; enjoying a drink or a meal in the restaurant which offers food with Australian, Indonesian, French and Californian influences.
From surf centre to surf village
It's a fit with other brands, and is attracting surf stores to the area, forming the epicentre of a cool surfing hub.
Coudry says: "It's actually them who came to us. We have Billabong, we have Red Bull, Hurley, Reef. All these companies were really excited about this machine, and the whole venue, since people can just hang out, have a drink, have a meal around the pool, watch surfers or just go surf – so it's really like a little surf village, and that's what they like about it, so they endorse the concept."The wave machine is a significant part of creating that atmosphere. For the rest, it's a matter of working on all the senses to create an immersive, unforgettable experience:
"The customer who comes in needs to go and breathe, feel, touch and see. It's a little like Disneyland."
The attraction has been running now for a little under a year – other retail malls will be interested to see how this works, and the brands that it fits with.
There is a surf scene in Quebec, but Coudry points out that it's a really niche market, and that though 10% of those who visit Oasis Surf are experienced surfers, 90% of them are people who come to learn, or to hang out by the wave.
"On weekdays, it's more surfers; at the weekends we have more people around the wave."
The really important thing is that the 24-foot channel width AWM surf simulator offers an authentic experience.
"Up to now, I think it's one of the best machines because you can use real boards on it. It's not 100% ideal yet, but we can use fins, we can use fibre-glass boards, we use some fibre-glass boards and some soft-top boards, so people really like it: a real surfer will like the fact that you ride a real surfboard. The sensations are the same – you really get better at surfing when you're in this machine, so it's really authentic for the surfer. That's the thing that makes all the non-surfers come in, because it's approved by surfers. Say someone has a friend that surfs – who says, yes, it's the real experience: go there. And, once you get endorsed by the surf community…"
Adaptable waves to suit all levels
Another advantage of AWM's advanced SurfStream® technology is the fact that the machine isn't limited to generating one type of wave: instead, the wave is adjustable from 2 feet for beginners to 6 feet more experienced surfers.
"I think we can do up to ten different waves: a barrelling right, a barrelling left, every size, we can do a training wave which is really small, we can do a fun party wave for kids that is all white water, where they can body-board, so it's really adapted for every customer."
It is clear already that attendance is rising steadily although until the first year is over and the numbers for each season analysed, it is impossible to tell by how much.
As Coudry points out, the attraction has yet to close the loop in its first year, and is now in one of the slowest times, the back-to-school season.
"When we've passed November the 19th, which was the day we opened, I'll be in a better position to analyse the increase in numbers. Until that point, there is very little basis for comparison."
Winter is the time when it is essential to attract and engage with customers.
Constant marketing is critical: television and social media both play a part.
Excellence throughout is the key to repeat visits
"Social media is really important for everyone under 30 years old," says Coudry. "We're in a mall, so the mall does a big job for us, too. The problem is not to bring people once, but to have repeat visits. That's the biggest challenge. First of all, of course, it helps to have a good machine. You need to have a good first experience and service – good trainers; good waiters in the restaurant. People need to enjoy their experience 100%."
As the idea of an indoor surf-park is relatively novel, it's important that the moment visitors leave they start spreading the word by every means available to them:
"…that it's awesome and they loved it."
It's still early days to make future projections with any authority –
"We've been running for almost a year now. For the future, there will probably be expansion. It would be great to open other Oasis Surfs – we don't know where, yet, but it's really something we're considering."