By Anne Beasley
Lately, I've heard a lot of people talking about "pool pressure"— the all eyes on you aspect of surf parks. Similar to a skate bowl or half pipe, everyone is watching your ride and waiting their turn. With all eyes on the surfer, the first time in the pool can be tougher than you think. So, I reached out to a few surfers to talk about overcoming pool pressure and tips for making your first time in the pool more fun.
Getting familiar with your surroundings
Paulina Fusitu'a dreamed about going to URBNSURF for more than a year but admits when the day finally arrived she was incredibly nervous. She usually surfs at Freshwater Beach in Sydney, where Duke Kahanamoku first brought surfing to Australia. She watched a lot of videos of URBN before going but said she was most nervous about the spectator area located along the take-off zone. "The idea of being watched from the wall was horrid," says Paulina, who describes herself as a beginner to intermediate surfer.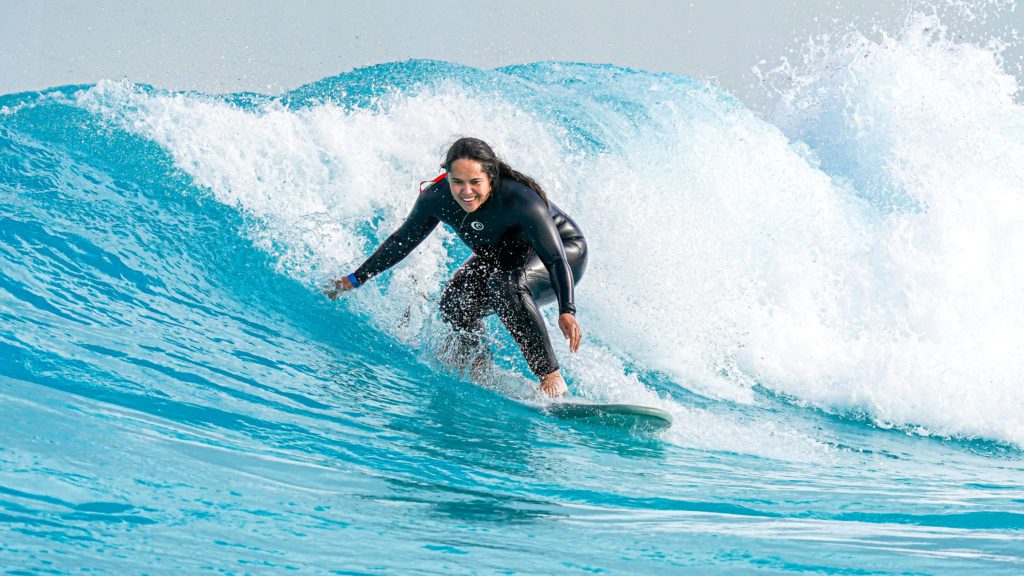 That said, she found herself drawn to watching from the wall and stated the experience was invaluable. "We studied the surfers taking off," says Paulina, who went to URBN with her partner and a friend. "We learned how many waves were in a set, where to wait, and where people with different boards or paddle strengths should take off. It made a big difference."
In fact, Paulina didn't miss one wave in her intermediate session. She also had performance anxiety but credits booking a "play in the bay" session prior to her surf time helped calm her nerves. "There weren't any real waves in the bay, but getting used to our boards and understanding how the water moves around the pool was all really helpful."
Pool Pressure is as much mental as it is physical
Cris Mills, a surf strength coach and accomplished surfer, even admits to feeling the pool pressure on his first visit to URBN. For Cris, it wasn't the spectators on the wall, but the people in the lineup that messed with his hyper-critical ego. "As you are taking off everyone in the lineup is just sitting there watching and staring," says Cris. "Since there's no looking out the back for the next wave or set, all eyes are on the surfer taking off, and when you eat it or miss the takeoff everyone sees."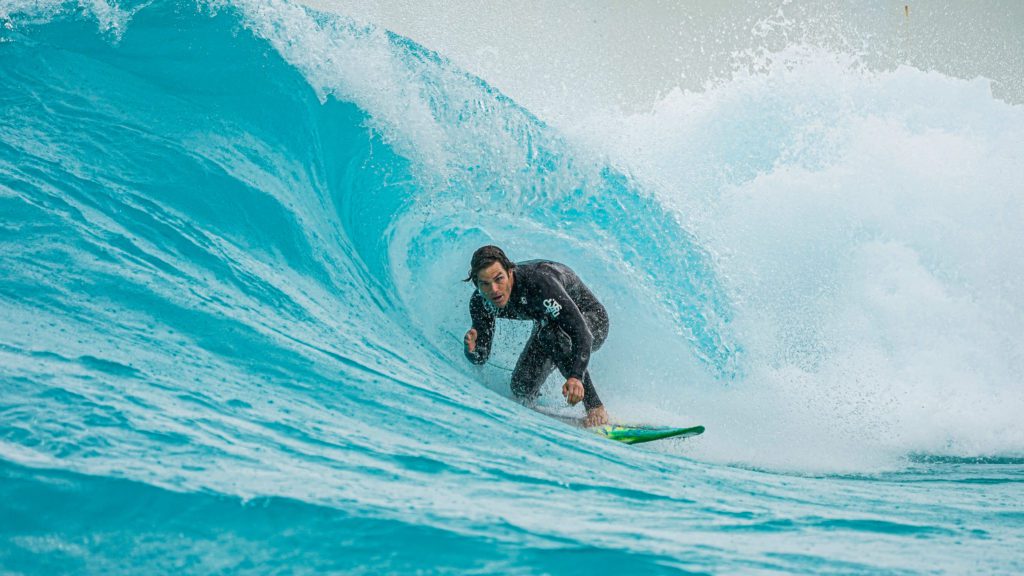 Cris recommends going into the first session with a sense of humor and breaking the ice by talking to people in the water. "Once you get comfortable you can have fun," says Cris. "It's the same if you go surfing anywhere in the world. The first time you are more hesitant, everything is unfamiliar. The second, third, or fourth time you build a pattern of awareness. It's the same with the wave pool. If you can book multiple sessions in one day do it. Each successive session will be more successful."
Make the park an extension of your comfort zone with repeat visits
Dani Landau, a surfer based in London, agrees that going back to the same park, again and again, is a recipe for success. Dani has been to The Wave in Bristol close to a dozen times. He remembers feeling anxious his first time because the whole experience was so different from going for a surf in the sea. "It can feel strange to have a set time to go surfing," says Dani, who usually books Advanced Plus sessions. "You have to get there on time, sign the waiver, listen to the safety briefing, and then get out when your time is up."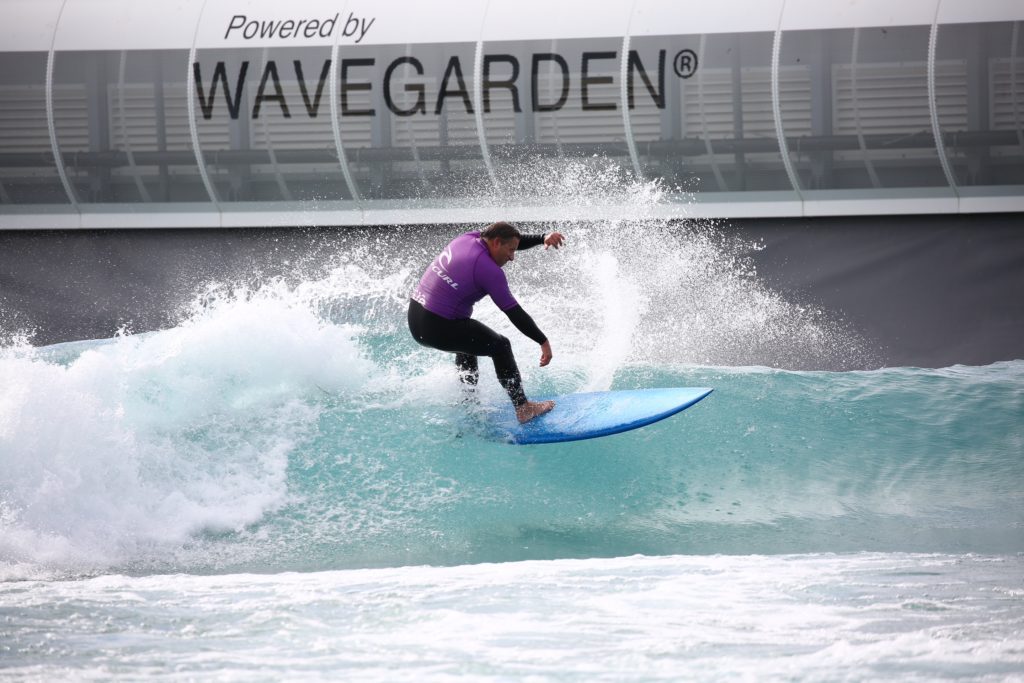 But Dani keeps going back. He says the place is "hypnotic" and a "marvel of engineering." He likes the whole experience from the staff, to the vibes on deck, and especially the wave now that he has it dialed. "Everyone wipes out at some point," says Dani. "Once you loosen up it's great practice for top turns and cutbacks. It's like a surfing gym. If I paddle hard I can get another wave in the same set. It's a great workout."
Go in with a beginner mindset
Renowned artist and surfer Drew Brophy recently traveled with the Lost Surfboards team from San Clemente, California to BSR in Waco Texas. With decades of experience in the spotlight, Drew still thought about everyone watching. Even with a crew of photographers, videographers, and professional surfers, Drew kept his mind set on having fun. "I never felt pressure, because everyone has to learn how to catch the wave," says Drew. "I was surprised at how difficult it was to master each take-off and read each wave. But once you get it, it's easy. If anything, I feel sorry for the new guy who thinks he's going to rip right off the bat, and on his first wave he strikes out."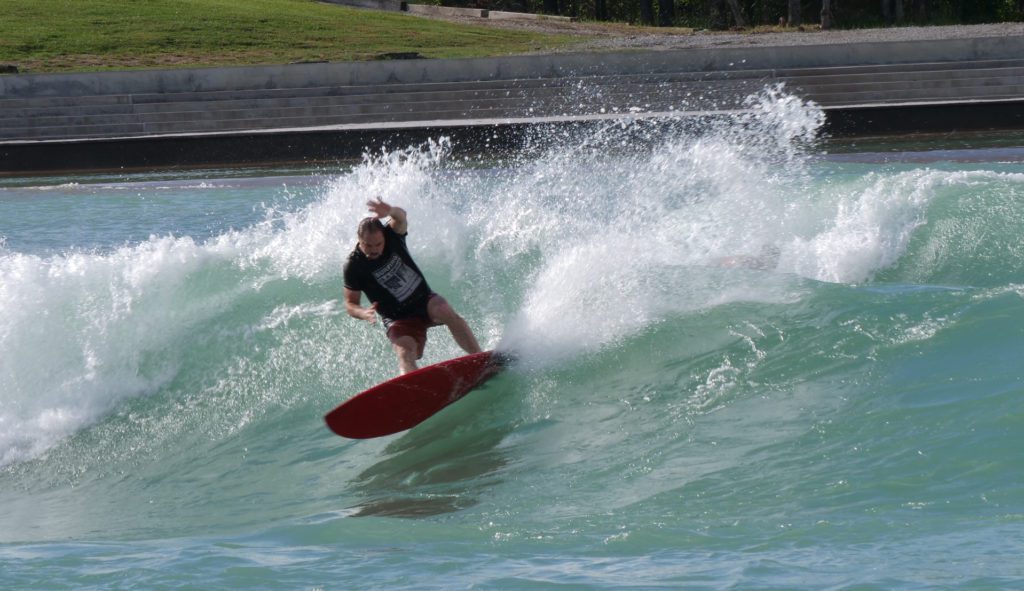 Drew says it's important to remember everyone gets a turn and riding the exact same perfect wave over and over again is amazing. Sure there is a learning curve, but with time any surfer can master each pool's unique wave. Drew is going back to Waco soon with a big group. In fact, he recommends going with as many friends as possible. "There is a lot of downtime waiting for your session," says Drew. "Having your friends around makes it better. "
Take it from the surfers interviewed here. A positive mindset, becoming comfortable with our surroundings, multiple sessions, and the knowledge that everyone makes mistakes can go a long way in mitigating "pool pressure". Going with a friend, a group, or just talking to the surfer next to you can make the difference between anxiety and an epic session.