Press Release from UNIT Surf Pool:

UNIT Surf Pool officially announced today that Havelwelle will feature an embedded 14 meter wide UNIT Surf Pool, the largest indoor rapid wave in the World to date at 46 feet of surfable face. The development team is focused on building out this facility with sustainable design, eco-friendly construction, and creating a year around surf haven unaffected by seasonality.
 
The space will offer a large bar and restaurant, a beautiful green oasis overlooking the wave, a relaxing outdoor wine patio, and 12 overnight Slube Home rentals to ensure you can always catch an early dawn patrol session or surf until your legs give out!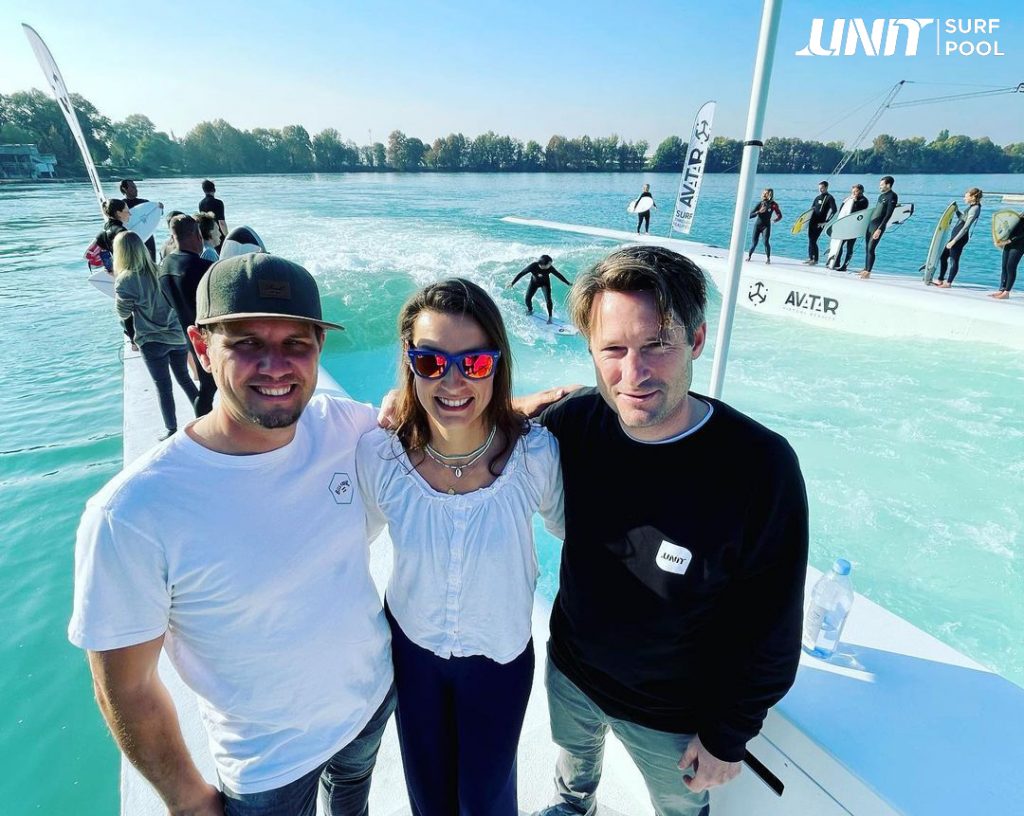 "We are happy to have an awesome partner with UNIT on our side. This wave technology offers a glassy, fun ride for everyone. We have tested waves all over Europe and the UNIT wave technology has been our absolute favorite! We are looking forward to building this amazing 14 meter indoor wave pool and showcasing all of our creativity in this heartfelt project for the city of Potsdam and all of Brandenburg!" states CEO of Havelwelle, Ginette Rhauda.
 
In a perfect urban location, Havelwelle is situated adjacent to the main train station of Potsdam Rehbrücke which will allow for easy low-emission transportation from all around the city. It also neighbors a newly developed innovation campus that specializes in healthy living, handcraftsmanship, medical, and leisure facilities.
Havelwelle Indoor Surf Facility Rendering (Source: UNIT Surf Pool)
In close communication with the Rapid Surf League and the German Surfing Federation, Havelwelle will host local and national surfing events. Alongside showcasing some of the best pro-competitive surfers on their wave, they will also offer private rentals for business, schools, and groups to come out and surf for their next event.

Havelwelle is thrilled to offer genuine surf spirit and authentic surf culture to the city of Potsdam with emphasis on living green, creating an inclusive and approachable environment to learn, promoting a healthy active lifestyle, bringing a strong passion for waves, and introducing people to the happiness and excitement surfing brings to everyday life!
Havelwell Leadership Team in the city of Postdam (Source: UNIT Surf Pool)
Havelwelle plans to open their doors to the public in 2023. To stay up to date on their development progress, news, and exciting updates follow Havelwelle and UNIT Surf Pool on Instagram and LinkedIn.
HAVELWELLE Spearheaded by the Rhauda Group, is committed to bringing the joy and sport of surfing to the city of Potsdam by way of eco-friendly design and construction with sustainability at the pinnacle of focus. The Rhauda Group has many years of experience in development, entrepreneurship, marketing, and business development.

UNIT SURF POOL is the largest and most energy-efficient, stationary rapid surf wave on the market. The artificial surf technology supplier offers the world's first floating surf pool with an endless wave and zero water consumption. UNIT Surf Pool also offers an embedded minimal footprint installation with patented hydrodynamics that position them as the most sustainable standing wave available. Launched in Germany in 2018 by Johannes Degenhardt and brought to North America in 2020 by Tony Finn and Jessica O'Leary, together an expert team with many years of experience in action sports production, development, and event management.