PRESS RELEASE
June 29, 2015
WAVEGARDEN, market pioneer in wave generating technologies, unveiled details of a groundbreaking technology that produces the longest man-made wave for surfing. Marking a historic moment in the surf world, this technology will be introduced at Surf Snowdonia in North Wales this summer and at NLand Surfpark in Austin, Texas in 2016.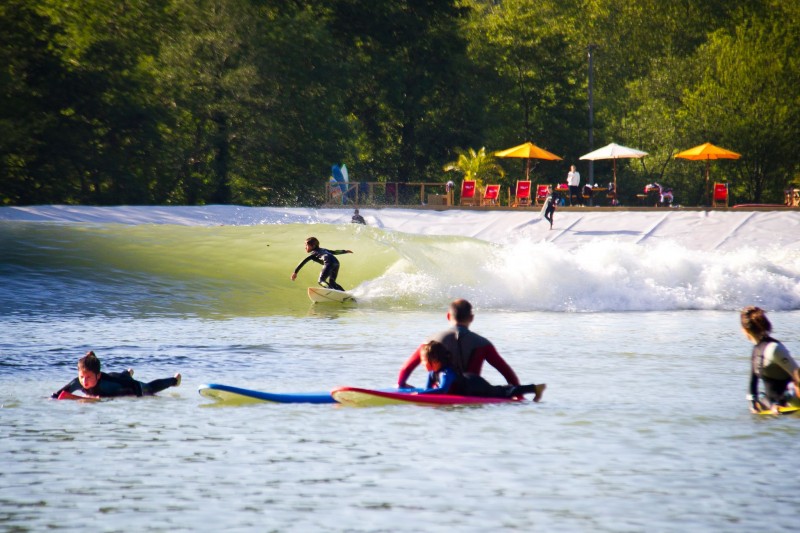 The partnership between WAVEGARDEN and LEITNER ropeways, one of the world's leading manufacturers of ropeway systems, started in 2012. In a collaborative engineering effort, WAVEGARDEN and LEITNER ropeways conducted extensive R&D by pooling their top electrical, mechanical, civil and computational fluid dynamic (CFD) engineers. This intensive product development process resulted in a sophisticated solution. The DirectDrive, a gearless drive system developed by LEITNER ropeways, coupled with LeitDrive, a system developed in-house, plays a key role in the production of perfect waves. The drive system propels the submerged wavefoil from one end of a lagoon to the other. It creates a linear swell that interacts with the bathymetry design to produce a series of perfect waves that range from 0.5m to 1.9m and offer a wave riding experience between 20 and 35 seconds. 
"To develop the technology we required, it was essential to collaborate with a company that makes precision machinery which is highly reliable, even in extreme conditions. LEITNER ropeways systems have been used to transport people all over the place: skiers and snowboarders to the top of mountain resorts and the public to sightseeing locations and urban areas. With a 150 years experience, partnering with LEITNER ropeways was an obvious choice for us," explained Josema Odriozola, Wavegarden CEO.
Anton Seeber, CEO of LEITNER elaborates: "With our DirectDrive technology, we achieved excellent results not only for our ropeway systems but we also increased considerably the efficiency and reliability of our wind turbines and urban transportation. Since our technology is extremely versatile we were looking to broaden the areas of solutions. Today, we are happy to support WAVEGARDEN in producing the longest and best man-made wave for surfing. Our DirectDrive reduces significantly the impact on the environment by saving energy, reducing noise emission and eliminating toxic grease."
After a decade of perseverance, WAVEGARDEN has proved it is possible to fabricate world-class surfing destinations with quality, ocean-like waves, ideal for surfing, body boarding, stand-up paddling and swimming. A significant milestone in WAVEGARDEN's history, Surf Snowdonia is the first public installation to implement this revolutionary drive system. Based at the foot of lush, green mountains in the Conwy Valley in Snowdonia's National Park, the landmark facility will open this summer and is expected to attract in excess of 75,000 visitors a year to check out and surf the Wavegarden lagoon.
WAVEGARDEN and LEITNER ropeways are excited and proud to see their technology being implemented and are looking forward to installing the same system in new facilities currently being developed in other countries around the world including the USA, Australia, the Middle East, as well as mayor cities such as Madrid.
The drive system consists of a low-speed synchronous, electric motor – the DirectDrive – and an output shaft that is directly linked to the pulley wheel. The system can withstand forces up to 20 tonnes, requires minimal maintenance and is noise and pollution free. To ensure absolute reliability with no risk of stopping while in use, the system has back-up by redundancy, meaning critical components and functions of the drive system are duplicated to increase its reliability which is essential for any successful sports/leisure park business, especially in peak season. The drive system is capable of producing the longest man-made waves in the world that hold their form and power over any distance; the only limit to the length of the wave is the length of the lagoon.
LEITNER ropeways systems are in use around the world and carry out various tasks with long-term success. As per the company's traditions, they bring skiers and snowboarders to the pistes comfortably, safely and quickly. LEITNER ropeways are also being used for alternative purposes: to carry people to tourist sights; to help to solve traffic problems in urban areas; and now to provide surfers with perfect waves!
Founded in 2005, WAVEGARDEN is an engineering company dedicated to the research, design, manufacture, installation, commissioning and promotion of wave generating systems and lagoons for surfing and other watersports. We remain true to our mission to share the incredible sensation of surfing perfect waves with everyone in the world, regardless of age, level of experience or geographical location.
Press Contact: For more information please contact [email protected] or visit: www.wavegarden.com