With a completely managable and predictable playing field, an innovative new format will be introduced at the Abu Dhabi All Stars, to promote performance riding and the most progressive and dynamic competition possible.
Round 1 will feature only the right hand breaking wave, with every rider getting 3 waves each, with their best wave to count. This will be a non elimnation round.
Round 2 will feature only the left hand breaking wave, with every rider getting 3 waves each, with their best wave to count. Again, this will be a non elimination round.
Round 3 will feature only the closeout wave, providing a junction section for riders to either boost air or lay into driving turns on. Again, each rider will get 3 waves each, with their best wave to count.The best waves from Round 1, 2 and 3 will be added together to provide an overall result, with the Top 6 athletes advancing through to the quarter finals.
Sudden Death Round: The remaining athletes will go into a Sudden Death round for the final 2 places in the quarterfinals. Each athlete in this round will be allowed 3 waves of their choice, with their best ride counting towards their chances of advancing or not into the quarterfinals.
The Quarters through Finals will then adopt the traditional man on man format, with each heat providing the athletes 9 waves each: 3 rights / 3 lefts / 3 closeouts in the quarters and semis, with the best ride on each type of wave counting towards the overall result.
In the Consolation Finals and Finals themselves, the athletes will have 15 waves each, with the top 2 scoring rides from each type of wave counting towards their overall score to determine who will be the Champion of the Surf component of the Abu Dhabi All Stars Invitational.***Tune in live from 10am UAE time on Friday 5th April to 

www.StandUpWorldTour.com

 for the culmination of the surf component of the Abu Dhabi All Stars.
Live Schedule for the Abu Dhabi All Stars Invitational (UAE Times)
Unlike most surf events that are at the mercy of the surf forecast and nature's ever changing playing field, the wave pool at Wadi Adventure provides mechanical consistency, where every athlete will have exactly the same opportunities to surf, leaving it to their performance on the day to make the difference between winning and losing.
The mechanical precision of the pool also allows us to provide accurate timing for the whole event, with the Live broadcast schedule for Thursday and Friday being as follows (Please note that all timings are on UAE time – CET +3hrs / Sao Paolo +7hrs / EST +8hrs / PST +11 hrs / HST +14hrs / Sydney -7hrs):
Thursday, April 4th:
1pm: Live Show begins
1:30pm: Round 1: The 'Rights'
3pm: Round 2: The 'Lefts'
4:30pm: Round 3: The 'Closeouts'
6pm: Women's Exhibition
6:30pm – 8pm: Freesurf Session
Friday, April 5th:
10am: Live Show begins
10:30am: Sudden Death Round
12pm: Lunch Break
1:30pm: Live Show picks back up
2pm: Quarterfinals
4pm: Semifinals
5pm: look back and build up to the Consolation Finals & Finals
5:30pm: Consolation Finals
6:15pm: Finals
7:15pm: Podium at Wadi Adventure Park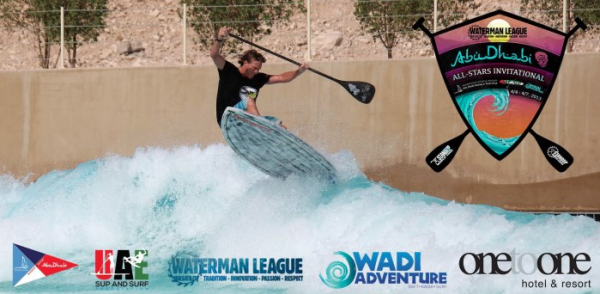 Elite 18 athletes are announced for the All Stars Men:
An elite selection of 18 athletes have been announced for the Abu Dhabi All Stars Invitational. These athletes are both leading athletes from the Stand Up World Tour and World Series, but also young stand outs and established legends that deserve their place here and a shot at being an All Star.
1. Leco Salazar (BRA)
2. Sean Poynter (US) Starboard
3. Caio Vaz (BRA) Art in Surf
4. Benoit Carpentier (FRA) Starboard
5. Zane Schweitzer (HI) Starboard
6. Beau Nixon (AUS) Naish
7. Noa Ginella (HI) Naish
8. Ian Vaz (BRA) Art in Surf
9. Kody Kerbox (HI) Naish
10. Connor Baxter (HI) Starboard
11. Jamie Mitchell (AUS)
12. Kieren Taylor (AUS) Starboard
13. Daniel Hughes (US)
14. Remi Quique (FRA
15. Paul Jackson (AUS) Fanatic
16. Fernando Stalla (MEX) Rogue
17. Ryan Helm (MEX)
18. Additional Wildcard to be announced….
Absent due to prior commitments are Current ratings leader Kai Lenny (Naish) from Maui and Justin Holland (Starboard) from Australia.
Tune in to the Live Broadcast at StandUpWorldTour.com
Sources: Stand Up World Tour & SUP Connect