Another surf park is on its way to Australia. Called Wisemans Surf Lodge, this one will be built near Sydney, on the Hawkesbury River. According to STAB Magazine, "Wisemans Surf Lodge is only 60 minutes from North Sydney, 45 from Palm Beach by boat if you reside on the northern beaches and 60 mins from Avoca on the Central Coast. Wisemans will be operating as a member-only, resort/club. There's a 9 hole golf course too, and a restaurant, but they'll be open to the public.
"Unlike other wave pools, that have the tendency to feel like they've been dropped in the middle of nowhere, Wisemans Surf Lodge is utilising structures that are already there (apart from building a pool the size of four football fields). A 45-acre hotel called "The Retreat as Wisemans" – that was built in the early 90s and previously owned by a Chinese hotel group who acquired it in 2016 for reportedly just shy of $10 million – is the site. The hotel's getting a re-design by Sydney architect Kelvin Ho (think Merivale's best spatial offerings), who's been charged with revamping the resort, transforming the rooms into elegant pool-side suites, and the restaurant and clubhouse into modern spaces complete with bars, a gym, co-working spaces and everything else you'd expect from modern luxury hang-outs."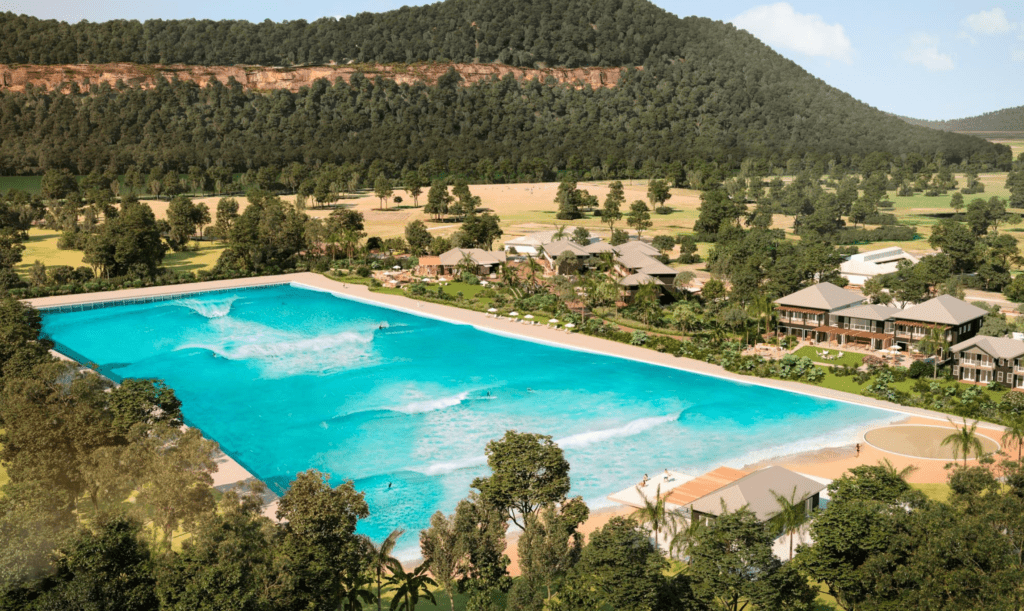 As for the wave itself, Wisemans Surf Lodge is contracting with Surf Loch to use its pneumatic technology. It's the same wave generating tech used at the Palm Springs Surf Club test facility, but at full scale. The PSSC already looks wildly fun, and it'll be interesting to see what it can do under full power.
Speaking of which, STAB continues: "You've seen the newest Surfloch tech on display at the Palm Springs Surf Club, but only at a fraction of its capacity, as it's a test facility for the technology. It's a pneumatic system, and talking specifics, Palm Springs has eight caissons (the energy chambers that give the wave grunt) and Wisemans will have 28. Moreover, rather than being a tricky wedge fired at a wall, it's going to be a long A-frame, peeling from the middle of the pool and running into channels on either side. So no taking off with your rail scraping the concrete.
The Wisemans Surf Lodge camp claims to be able to create waves up to two and a half metres of various shapes on different settings. The main peak will break out the back of the pool, potentially offering surfers a tube on takeoff, and then a wall that runs for up to 12 seconds in either direction. Then, there's a reform section, where the same wave offers gentler peelers on the inside for less accomplished surfers. Wisemans is setting itself against the theme park, bums on seats (or boards) model and has cranked the interval between waves up to 17 seconds, meaning less chance of stragglers in your path. Furthermore, Wisemans is uniquely immune to wind, being naturally sheltered by various cliffs and ridges."
Unlike most of the other surf parks in development around the world that are hoping to cater to as many surfers as possible, it appears Wisemans is going the route of exclusive, membership-only revenue model instead. Will it work? Membership rates are yet to be announced, but with surf parks being such a new business model, only time will tell if it pays off.