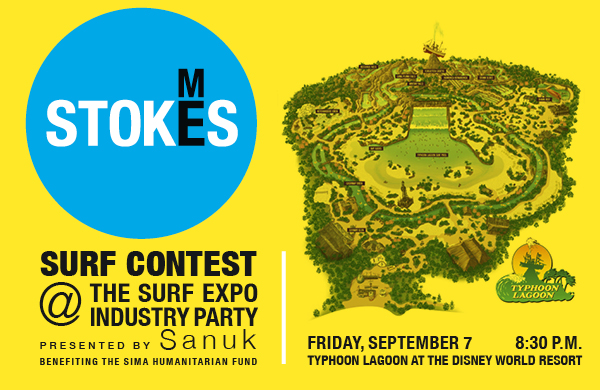 The Stokes Me Surf Contest took place last week on September 7th at The Surf Expo Industry Party. The event was presented by Sanuk and over $13,000 in charitable proceeds from the evening went towards the SIMA Humanitarian Fund.
Could wave pool and surf park based parties be the future of surf industry events? Maybe in the next 5 years we can all go to benefit parties and buy barrel time along with our raffle tickets.
Check out the full press release by the Surf Industry Manufacturer's Association below:
Surf Contest Launches Stokes Me Fundraiser By Raising Nearly $13,000
ORLANDO, Fla. (September 12, 2012) — On September 7, the Stokes Me Challenge started off with a splash during the Stokes Me Surf Contest at the Surf Expo Industry Party. Taking place at the infamous Typhoon Lagoon in Orlando, Fla., more than 3,000 partygoers cheered on the surf contest that consisted of 22 surf industry teams competing to win the crowds approval for the best surfed wave. The contest raised almost $13,000, which is approximately 5% of the Stokes Me Challenge overall goal of $220,000.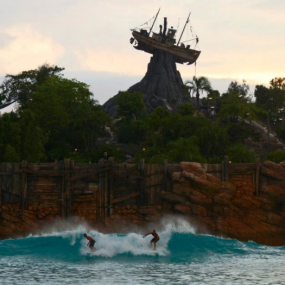 _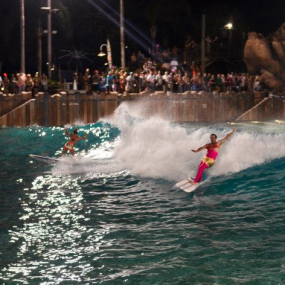 RVCA's Jim Shubin and Cori Barnick won the evening's contest, primarily due to their antics in the water, including Shubin donning an L*Space fringe one-piece. RVCA was awarded a free table at the exclusive "No Agenda" dinner for retailers and manufacturers at Surf Expo January 2013. Other honorable mentions included John Gothard, Sr. VP of Sales for Sanuk, who was dressed up as Wonder Woman and competed for the Keep A Breast team, as well as the Billabong team dressed as Mexican wrestlers, the Body Glove team dressed in a full-rubber, lizard creature suit, and the O'Neill team with their Rasta mohawk beanies.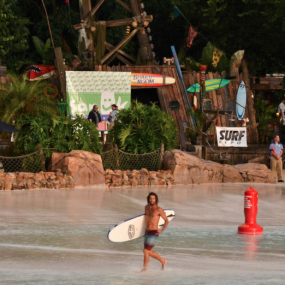 _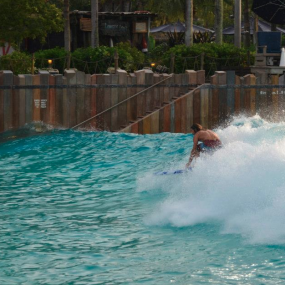 Pros Dave Rastovich, Mark Healey, Jamie O'Brien, Cheyne Magnusson and Asher Nolan showcased their talent in the wavepool while Robert "Wingnut " Weaver and former World Champion, Peter "PT" Townend, emceed the action. Rastovich surfed tandem with his girlfriend, Lauren Hill, and proved to be a crowd favorite.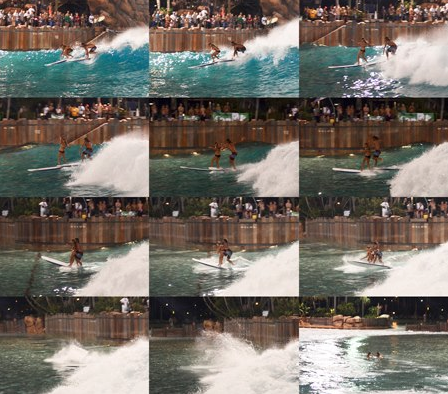 "While the Stokes Me Surf Contest proved to be a huge success, the main event is online at stokesME.org and will run next month, October 1-30," explained SIMA Humanitarian Fund President and Surfline Vice President, Ross Garrett. "Thanks to Surf Expo and Sanuk, who carved out time during their event for our fundraiser, we had some fun, and started to raise some money for our 10 worthy humanitarian beneficiaries."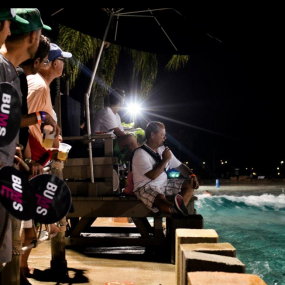 _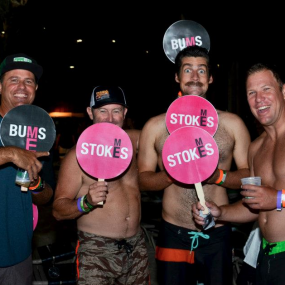 The Stokes Me Surf Contest served as an ideal kick-off to the main fundraiser, the Stokes Me Challenge, a 30-day fundraising campaign taking place this October 1 – October 30. Entry fees from the Stokes Me Surf Contest went directly to the brand's overall Stokes Me Challenge fundraising tally. Stokes Me Surf Contest participating brands included: Billabong, Body Glove, Cocky Bastard, GoPro, Hurley, Keep A Breast, Liquid Tribe, Nixon, O'Neill Clothing, Ocean Minded, Olukai, Quiksilver, Reef, Roxy, Rusty, RVCA, Sanuk, Surfline, Teva, Transworld Media, Volcom and VonZipper.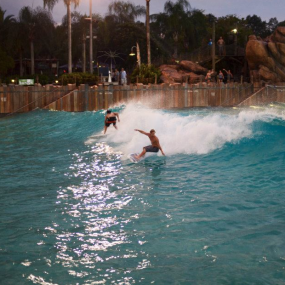 _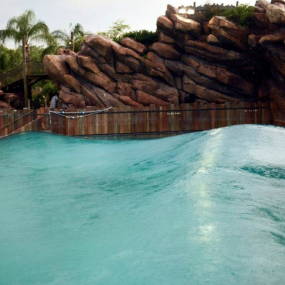 For more information on how to get involved with the Stokes Me Challenge visit www.stokesME.org.
The Stokes Me campaign is the official fundraising event for the SIMA Humanitarian Fund. Since 2004, the SIMA Humanitarian Fund has donated more than $1.58 million to surf-related, non-profit humanitarian organizations. All proceeds from this year's efforts will benefit 10 surf-related humanitarian non-profit organizations selected by the SIMA Humanitarian Fund Board of Directors for focusing on improving the quality of life, health and/or welfare of people. The 2012 Stokes Me beneficiaries include Best Day Foundation, Cystic Fibrosis Foundation, Jimmy Miller Foundation, Keep A Breast, Life Rolls On, Outdoor Outreach, Stoked Mentoring, SurfAid International, Surfers Healing and Waves for Water.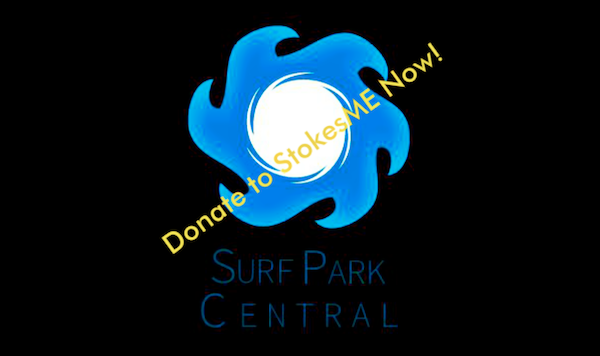 About SIMA
The Surf Industry Manufacturers Association (SIMA) is the official working trade association of more than 300 surf industry suppliers. Founded in 1989, SIMA is a non-profit organization that serves to promote awareness of the surf industry and participation in the sport of surfing through public relations efforts and a variety of services, educational programs and research. In addition, SIMA actively supports oceanic environmental efforts through its 501(c)(3) charitable environmental foundation, the SIMA Environmental Fund. In the past 23 years, SIMA's Environmental Fund has raised more than $6.2 million for environmental groups seeking to protect the world's oceans, beaches and waves. The SIMA Humanitarian Fund, also a 501(c)(3) charitable foundation, was established in 2006 to award grants to various surf or boardsport related social and humanitarian non-profit organizations whose efforts are focused on improving the quality of life, health and/or welfare of people."
Learn more about SIMA at www.sima.com
Photo Credit for all event images: Adam Walker – Team Sanuk