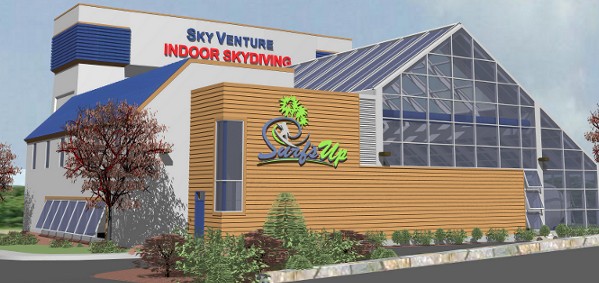 Surf's Up New Hampshire broke ground last week on the world's largest SurfStream by American Wave Machines.
The new wave pool facility is owned by Rob and Laurie Greer and will be constructed as an addition to the SkyVenture Indoor Skydiving venue in Nashua, NH. The Surf's Up surf park is set to debut in the spring of 2013.
Features of American Wave Machines newest surf park project in New Hampshire include:
Largest standing wave surf machine on the planet.
32′ wide surfing channel with 28′ of face to carve.
2-5′ standing wave that will produce a left or right barrel depending upon the bottom contour configuration.
Waves available for surfing and bodyboarding.
All-season indoor wave pool will have a fully retractable glass roof for seasonal open air operation.
Glass walls on the indoor surfing area for up close and personal viewing of all the action in the SurfStream.
Great venue for surf side lounging and a café for those pre & post surf sessions.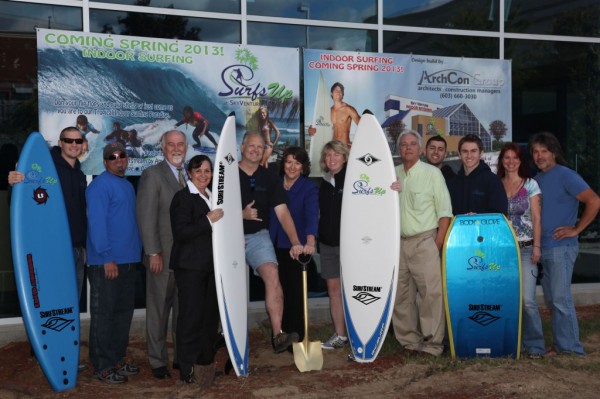 Check out the press release by American Wave Machines below:
First dedicated indoor surf park in US developed by leading wave machine company to open at SkyVenture New Hampshire in 2013
American Wave Machines, Inc. (AWM), the leading wave technology innovation company, announced the debut of the world's largest standing wave surfing machine, the SurfStream® model SS5032, in Nashua, New Hampshire. This will be the first multi-sport venue with surfing and skydiving.
Called Surf's Up New Hampshire, it's part of an expansion of SkyVenture NH, a profitable massive indoor skydiving venue. The all-season indoor SurfStream® will be connected to the skydiving facility and features a retractable glass roof for seasonal open air operation, glass walls for enhanced spectator viewing, surfside lounging, and a café.
With programmable controls and modular inserts, the SurfStream® model SS5032 creates multiple wave types in one machine. For experienced surfers the signature wave is the 5' barreling wave with 28' of face to carve on. This set of wave modules can be assembled in both right and left breaks accommodating goofy and regular foot riders. For broad appeal, the system also features training and intermediate waves which operate at lower power. Due to this versatility, owners Laurie and Rob Greer have developed a robust pay-for-surf revenue model including interscholastic surf team packages to help develop local high school surf teams.
"We can already teach anyone to fly, now we can teach anyone to surf." said Rob Greer, owner of SkyVenture NH. "SurfStream® is a tremendous value proposition with broad appeal. That's what convinced us to invest and that's essential for our bottom line."
Bruce McFarland, founder and CEO of AWM said "Laurie and Rob are visionaries. Their expertise in action sports facility marketing and operations, not to mention their passion, has contributed greatly to the success of this project. They really do believe in the development of extreme sport talent."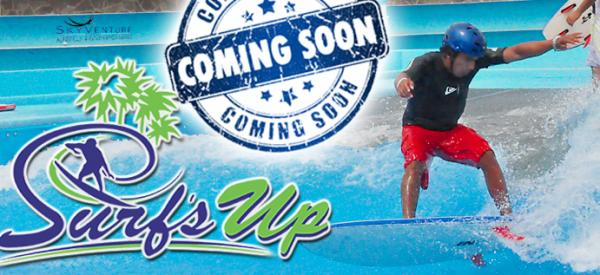 About American Wave Machines, Inc.
American Wave Machines, Inc. (AWM) is the powerhouse creator of artificial wave technology for applications in recreation, action sports, and hotel/resorts. Its patented SurfStream®, the world's first standing wave machine, is a technology breakthrough that delivers authentic surf and wave riding capabilities. The company also offers PerfectSwell™ surf pools for resorts and outdoor surf parks. For more information, visit www.americanwavemachines.com.
About SkyVenture New Hampshire
Located in Nashua, New Hampshire, SkyVenture NH features a state of the art vertical wind tunnel where customers experience the FREEDOM OF FLIGHT! In addition to individual flights, group events and parties are also available. For more information, visit www.skyventurenh.com.
Visit the Surf's Up New Hampshire website at surfsupnh.com
Check out American Wave Machines most recent teaser video and latest wave pool designs here.