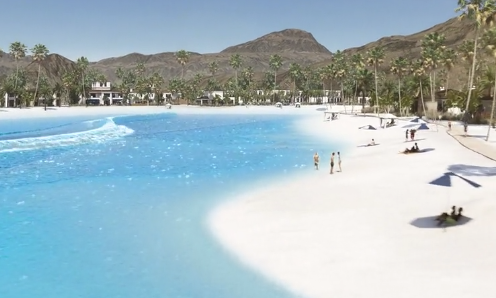 Public details on Thermal Beach Club surf park are scarce at the moment, but we know a few things about this very exciting wave pool project being planned in the Coachella Valley, California. Click here to see more about the Thermal Beach Club.
According to the Thermal Beach Club website, residents can "Own a piece of paradise – an exquisite villa estate set amidst a 20-acre clear blue lagoon and surrounded by a state-of-the-art luxury playground in the heart of the Coachella Valley. The Thermal Beach Club's lifestyle is designed for thrills, relaxation and making memories for generations to come."
This project is the fourth confirmed surf park project for the Palm Desert area. The Palm Springs Surf Club, powered by Surf Loch technology, is in testing phases already (and looks extremely fun), while DSRT Surf (powered by Wavegarden), and Coral Mountain (powered by Kelly Slater Surf Co.), are both in varying stages of planning and development.
According to a news report on nbcpalmsprings.com, "The Thermal Beach Club surf park will be built in the Thermal community, on vacant land south of Avenue 64 and west of Polk Street. The visionary project includes a 22-acre lagoon with wave‑making technology for surfing and water recreation, and 34,400 square feet of clubhouse buildings, that include a restaurant and bar. There are 326 dwelling units planned for the development's full build-out."
What makes the Coachella Valley a good location for Surf Parks?
There are a wide variety of factors that make the Coachella Valley a good location for surf park growth, including local government support for surf parks, the area being driving distance for the San Diego surfing population, water sharing rights with local golf courses, access to large open spaces … and, fundamentally, access to natural water resources to support the replenishment of groundwater to help to bring the surf park to life.
Coachella Valley Water District (CVWD), formed in 1918 to protect and conserve local water sources in the Coachella Valley region in the Palm Desert, says the system delivers water to the region through smart groundwater management and stormwater collection techniques, innovative recycling programs, State incentive programs for conservation, and, critically, by replenishing the groundwater basin with imported water from sustainable sources such as the Colorado River. Link to CVWD's site for more info.
According to CVWD, the Coachella Valley relies on four sources of water: groundwater, recycled water, and imported water from large sources e.g. the Colorado River. In addition to local farms, 36 golf courses within the Coachella Valley Water District use imported water from the Coachella Canal to supplement their groundwater use.
Experts also observe an advantage of this region for surf park developers is the density of golf courses already established in the Coachella Valley. Since golf courses consume millions of gallons of water per year for landscaping, if surf parks can make use of local recycled water, the net effect on water consumption from surf parks can be exponentially reduced.
CVWD also uses imported State Water Project water to artificially replenish the aquifer at 4 sites throughout the Coachella Valley. Replenishing with imported water supplements natural groundwater replenishment from rain and melted snow.
The plan for Thermal Beach Club
Now that you have an idea as to why Coachella Valley, what's the plan for the Thermal Beach Club (TBC)? According to public details at the time of this writing, their choice on wave technologies remains unclear and will likely be a hot topic in the weeks and months to come.
In any case, it appears that California's Palm Desert is on its way to becoming ground zero for out of ocean surfing tied to high end residential experiences, setting a new bar for other regions around the world that are similarly growing their surf park footprint.
Click here to learn more about the Thermal Beach Club: www.thermalbeachclub.com/media
Related links: