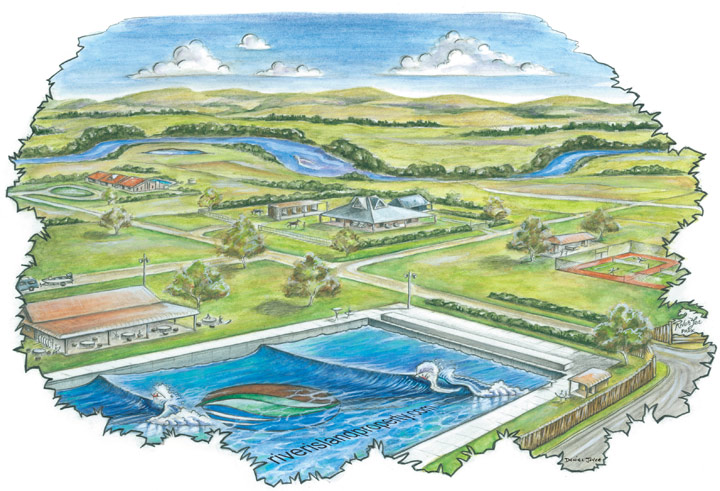 "Whoever gets in on this now is setting themselves up for some serious success," Mark Wilkes told me in a conversation earlier this week. He shouted through the phone over the violent winds that swept through Australia's Hunter Valley, describing what he believes will be a very bright future not only for his company, but surf parks in general… worldwide.  He wanted to make sure I heard what he was saying. Although Wilkes' voice had become strained by the end of our 45-minute conversation, his tone exuded a refreshing eagerness that led me to believe that big things are about to happen here in Australia.
Wilkes is the CEO of River Island Property Group, an Australian-based company geared towards constructing surfing-based residential communities in what he likes to call "action sports centres of excellence." While RIPG has built a handful of housing developments across Australia's East Coast, none have included that all-enticing, yet ever-elusive wave that Wilkes claims to have mastered. It does, however, sound as if that is all about to change. Including what would become Australia's first ever surfing-centered wave pool, Wilkes' description of his pending $75 million project ultimately sounds like a cross between a high-end resort and an X Games super center.
"I just want to build something sustainable, Tim," he told me, "…something that ticks the boxes for a variety of different people with a variety of different interests."
The adventure and extreme sports development will be speculatively located about a three hours' drive north of Queensland Australia's famous Sunshine Coast, and would surely appeal to the masses. The Discovery Coast Lakes & Surf Retreat, Wilkes' baby, is projected to be up and running by 2016, barring any holdup in council approval. "It's not just about the surfing," Wilkes reiterated. "You've seen our concept plan…"
This concept plan had appeared in my inbox one rainy evening. To say that it was expansive would be an understatement. The image showed a wakeboarding lake, bmx race track, skatepark, and golf course. It showed chairlifts taking riders to the top of mountain bike trails. It showed a motocross course, paintball field, gun range, and concert venue. It showed helipads, gyms, spas, restaurants, bars, and nightclubs. And perhaps most importantly, it showed the village… a large, sprawling village amidst a "holistic, nontoxic, profitable" Mecca.
"So is it your vision for this to be a resort, where families come on holiday, or do you see people coming to live here full time?" I asked.
"To be honest with you mate," he responded, "it will end up being the latter. Sure, we will be catering to the holiday market, but I see people wanting to move in. Permanently."
And while it is apparently indeed, "not just about the surfing," the surf pool will be the centerpiece of the development. Years of testing, studying, and designing have gone into Wilkes' wave prototype and technologies, and though he'll be the first one to admit that he's no inventor (having worked with Greg Webber of Webber Wave Pools for many years), he says that his innovations and tweaks have resulted in one superior wave. Understandably, he did not want to unveil too much about the technology, but what he could share was numbers.
"In our current project, we have a 500m lake with beaches at each end. A 2m wave will break from one end every 90 seconds, day and night," Wilkes described. The wave breaks in both directions, and provides for three 100m rides every cycle, thus being able to accommodate six riders at six different takeoff zones, resulting in at least 180 rides per hour. "The wave itself is perfect," he assured me.  "Beginners will love it, and so will intermediates like you and I." He described how his team was also working on modifying the physical nature of the waves for different skill sets, providing a gradual rolling wall for beginners, and a steeper, hollower barrel that pros would enjoy.
As many have pointed out in this soon-to-be booming industry, success, profitability, and viability can largely be boiled down to the wave rate. And this is where things get tricky. How many waves does it take to satisfy a surfer? 5? 10? 20? If I ride five 5 waves per session that truly get my blood pumping, I am more than content. But some need ten. Others need even more, wherein lies the question: How many people could be fulfilled per hour?
With all of the other attractions of the Discovery Coast Lakes & Surf Retreat, Wilkes was confident in the success of the development regardless of the greedy nature of surfers in needing to get their fix over and over and over again to be happy. "I'm projecting well over 1,000 visitors a day to the retreat," and that's not counting the semi-permanent residents of the complex, Wilkes said. There will be around 30 different businesses within the complex, providing well over 300 jobs.
"The feedback we've had from local councils has been overwhelming. Everyone I've presented this to has been impressed with what we are trying to accomplish here," said Wilkes. "This is going to happen."
His project proposal document contains one particularly important line: 'We actually own the land…this is not some idea we are trying to sell to the developer. We are the developer.'
I had to ask the inevitable question: "Why hasn't it happened already? What is holding you back?"
The answer: The company needs a few more investors. "We've secured a few over these last couple of months. But we only need a few more to jump on board, and then the possibilities are endless. Once we have one of these developments in place…" he trailed off in the wind before taking cover behind a shed, "things will progress quickly."
"The Arabs were into it. We did a presentation in Dubai a few years back… about our technology, about our mission, and they immediately wanted five wave pools in five complexes. Five! We might be able to build them one if things go well in Queensland," Wilkes told me.
"Where do you see the company in five years?" I asked.
"Obviously, we want to acquire more contracts. I see the Discovery Coast Lakes and Surf Retreat opening in 2016. Once that happens, we can move forward. This project is our main focus at the moment."
"And what about River Lea?" I prodded.
"It's on the back burner," he responded.
River Lea has been in the works for years, and is literally, what Wilkes called a "blank canvas." In a similar set up to Discovery Coast, River Lea will be a smaller scale, surf-centered, 120-acre residential community situated around a river, providing endless opportunities for fishing, boating, and bushwalking. Once again, acquisition of the land is not the issue.  Mark reminded me: "We need just a little bit more," he said, referring to investment capital, "then, we are off to the races."
Forty-five minutes after we began our conversation, he was still braving the wind and the now setting sun.
"Mark, I'd better let you go. It must be getting cold," I said.
"Tim, mate, I wish I could show you this wave now," he said, not yet ready to go. "I've surfed it. It's beautiful… the way it walls up… I'm getting a bit older now… but I'd just dig my hand into the face and hold on in that barrel. I can only bend my knees for so long, otherwise I'd be in there all day," he laughed.
If you're interested in contacting Mark Wilkes for investment opportunities or more information regarding these projects, contact us at [email protected]